How to boost my positive impact? Step 2: TAKE ACTIONS - at home
Morgane Soret @ 2022-02-23 16:06:38 +0000
After learning more about our current climate & consumption crisis you can feel overwhelmed and powerless. It is the way I felt when I started my sustainable journey. Do you also feel guilty & that too much pressure is put on your shoulders? Personally, I do and it is called eco-anxiety.
The official definition of eco-anxiety is "extreme worry about current and future harm to the environment caused by human activity and climate change." Nailed it right? We are all experiencing this feeling. BUT we can control it & we can put in place actions. It is not about doing everything perfectly (perfection doesn't exist), it is not about doing what people expect you to do, it is not about doing it by guilt or pressure. It is about looking at the environmental crisis with your own spectrum and take actions that are meaningful for you, that are easy to implement within your lifestyle, within your budget, within your available ressources. It is about what feels right to you.
To help us we have listed the TOP 7 meaningful actions that you can put in place to boost your positive impact, guilt-free.
Have a read, research on your side & implement the ones that make sense for you. So where do we start?
In order to list those TOP 7 meaningful actions to boost my positive impact, we have dig into the data to highlight the mains causes of greenhouse gas emissions. I believe that small actions can have a great impact. And remember, we have the power, you have the power.

Solution #1 - Switch to a green energy provider
Did you know that 25% of the greenhouse gas emission come from electricity & heat production? So switching to a green energy provider is a small green step but with a huge positive impact. I see you, yes, I see you. We said FUN & EASY solutions. And switching to a green energy provider doesn't sound fun & easy. So turn it in a family/friends challenge.
The last family or friends to switch to a green energy provider needs to through a diner party for the others! That is for the fun part.
Now, how to easily switch to a green energy provider?
In the UK, switching to a green energy supplier has never been easier, and the good news is that green energy doesn't have to cost more. According to T3's article, the UK's top 3 green energy provider are: Bulb, Octopus Energy and Green Energy UK.

In the US, it depends on the local availabilities. Follow earthday.org recommendation by contacting your local utility company.
So, challenge accepted?
Solution #2 - Go Vegan 3 times a week
Did you know that 24% of the greenhouse gas emission come from agriculture? So eating products that are seasonal, local & vegan at least 3 times a week, is a small green steps with a huge positive impact. And YES, vegan food is also delicious, trust a French palate!
To make it easy you can have a look at the amazing vegan recipes freely available on Veganuary's wesbite. Or get inspired by one of those amazing vegan recipe master:
Avant Garde Vegan by Gaz Oakley
Gaz is a classically trained chef, author & YouTuber originally from Cardiff, Wales. The Vegan arancini are just delicious!
Ella is such an inspiring woman, entrepreneur & mother. The app is not free but you get so much out if. From vegan recipe to guided mediation & yoga. I am using it daily.
Annabelle is passionate about food and the environment. And on her blog you can find a seasonal recipes for each month! Super useful to help you cook seasonal food.

So, what will you cook this week?
Solution #3 - Buy second hand
The numbers regarding the fashion industry are scary:
80 billion garments are produced each year

52 micro-collections per year are released by fast-fashion brands instead of the usual 2 seasons

400% more clothes are produced now compared to 20 years ago

7 times in average, a garment is worn before being thrown away

35 kg textile waste, in average, is generated per person per year in the US only

Only 20% to 30% of the clothes of most women's wardrobes are being worn
More details on sustainyourslyle.org
So, what can we do? Take yourselves for thrifting shopping, go on a treasure hunt online or offline.
I am personally addicted to VINTED, I have a small kid and I buy everything for him on VINTED. Kids grow so fast, the clothe don't have time to be deteriorated. And you know the big plus? I make A LOT of saving buying second hand, it is much cheaper than buying new - no kidding? ;)
VINTED is not the only online second-hand shop, you have hundreds of options, you can read our Sustainable gifting guide for more. And don't forget about the independent vintage shops or charity shops. Real treasures are there waiting for you to find it!

So, ready to start the hunt?
Solution #4 - Ride a bike
Did you know that 14% of the greenhouse gas emission come from transportation? So by riding a bike or using public transport you can make a huge difference.
Riding a bike to work will took you longer than driving BUT you will combine commuting & physical activity. So you can cancel your gym subscription & take your bike everyday. Beside the environmental positive impact of cycling, it is great for your mental health too! It reduces the stress, boost concentration, boost your mood & helps with anxiety. Indeed, after a ride, you'll experience a spike in neuro-chemicals such as serotonin and dopamine. Not only do they improve your mood, but this hit of endorphins can stimulate the same areas of the brain as a painkiller.
If biking is not the good option for you, what about using public transportation to commute? Here again, it might take you longer BUT you can use this time to listen to music, listen to podcast, meditate and have time of your own. We have pulled out a playlist for you ;) — NOICE playlist.
You are already cycling or using public transportation? So what's next? Why not planning your next biking holidays (instead of taking the plane)? Our countries are beautiful and there is so much to discover locally. It can be a sporty holiday or a family trip. Look at the best cycling trips around you for sure you will create great memories.

So, which option will you choose?

Solution #5 - Go offline for a day
Everything is on the tittle. Go offline for a day. Disconnect fully to reconnect fully with the present, your environment, your friends, your family, yourself. If one day is too much, what about having a smartphone box at the entrance of your house. You can leave your smartphone there from 8pm to 7am. And spend disconnected quality time all together.
Solution #6 - Ditch single use plastic
Single use plastic is a real plague. An estimate that 150 million tonnes of plastic are already polluting the world's oceans, and that "leakage" adds at least 9.1 million tonnes more each year — a figure that is said to be growing by five per cent annually — the MacArthur report calculates there will be 850-950 million tonnes of ocean plastic by 2050, versus total fish stocks of 812-899 million tonnes. Which leads to more plastic than fish on our oceans by 2050.
The challenge to ditch plastic starts with one item. Have a look to the plastic stuff you use daily and start by choosing ONE, yes only one to start with, that you can replace by a reusable option. Here is a list to help you.
Ditch the single use plastic water bottle & get a reusable water bottle.
Ditch the single use cutlery for take aways & get a reusable cutlery set.
Ditch the single use plastic straw & get a reusable straw.
Ditch the single use coffee cup & get a reusable coffee cup.
Ditch the single use salad container & get your food in reusable salad container.
Ditch the plastic wrap for food & get a reusable food wrap.
Ditch the grocery plastic bags & get reusable tote bags.
Ditch the single use plastic toothpaste tube & get NOICE botanical zero-waste toothpaste.
Ditch the single use plastic shampoo bottle & get a solid shampoo.
You got the vibe, so now, what it the plastic stuff you will ditch?
And remember you don't have to invest a lot, to buy the latest, newest, trendiest reusable water bottle. Start by repurposing the item you gave at home. Try to look for second hand options or ask those as the next birthday or festive season gift.
Solution #7 - Switch to a green bank
Switch to a bank that meets your values and desires for the planet! Six Banks We Recommend You Consider:

🇺🇸 Banks
🏦 Aspiration
@aspiration
💻 Online Only
🅱️Certified B Corp
🌱 100% Fossil Free Investment

🏦 Ando Money
@ando.money
💻 Mobile Banking
🌱 Debit card made with 80% less plastic
👁 Total Transparency

🏦 Beneficial State Bank
@beneficialstate
🅱️Certified B Corp
🤝Funds Diverse and Minority Owned Business
🌈Includes Non-Profit Banking

🇬🇧 Banks
🏦 Unity Trust Bank
@unitytrustbank
🤝Volunteer Initiative for Employees
💷Fund Community Support Lending
🗺 Available Nationwide

🏦 Co-Operative Bank
@thecooperativebank
🌱 Carbon Neutral & Zero-Waste
♻️ Sourced all renewable energy
🗣Value Open Discussion of Climate Change and Human Rights

🏦 Starling Bank
@starlingbank
💻 Branchless Bank
📑 Completely Paperless
♻️ Run on Renewable Energy
Solution BONUS - Hug a tree
Hugging a tree increases levels of hormone oxytocin. This hormone is responsible for feeling calm and emotional bonding. When hugging a tree, the hormones serotonin and dopamine make you feel happier. Give it a try & let us know how it feels ;)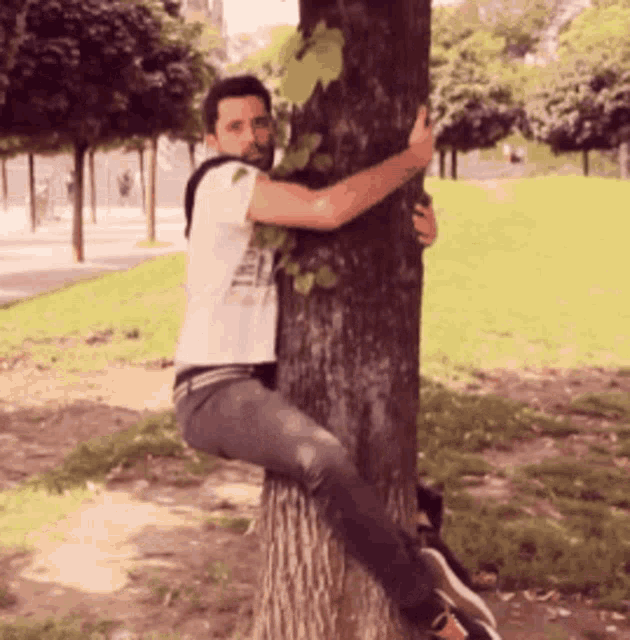 Next week we will talk about the actions that we can take in our workspace. Stay tuned for the Step 3 & 4 to boost your positive impact.
Keep Brushing 🌳